Fort Peck Fishing Charters
Call Joe Bouroncle for pricing: (619) 997-1612

Capt. Joe will happily discuss pricing, details and availability with you for Fort Peck Fishing Charters
Flathead Fish Finders offers action-packed, fully guided fishing charters on Fort Peck Reservoir in northwest Montana.
This world-class fishery currently holds the world record for Saugeye at 15.66 lbs, the world record Sauger at 8.805 lbs, the current state record Small Mouth Bass 7.5 lbs, Chinook Salmon 31.13 lbs, Coho Salmon 4.88 lbs, Freshwater Drum 21.59 lbs, and Channel Catfish at 34.8 lbs.
It's truly IMPRESSIVE to think about all the record breakers that are swimming in there right now and we'd love for you to experience this wonderful body of water with us!
What We Catch on Our Fort Peck Charters
Fort Peck currently has 45 fish species in it, but the main target species are: Walleye, Small Mouth Bass, Crappie, Northern Pike, Chinook Salmon, Lake Trout, Yellow Perch, Paddlefish, and Channel Catfish to name a few.
Your Experienced Fort Peck Fishing Guides
Your fishing charter on Fort Peck Reservoir would be guided by either Captain Joe Bouroncle or the Mindt family. Eddie, Haley, Justin and Taylor Mindt are anglers that were all born and raised in the area and have the local knowledge to offer you the best fishing anyone could expect!
The Mindt family also owns the Lakeridge in Fort Peck. The Lakeridge offers a convenience store, bait, fuel motel cabins, RV lots and more. They can handle all your needs, and in a place that is well off the beaten path, this kind of access is very welcome.
If a trip on a body of water that boasts more shoreline then the entire West Coast sounds like your cup of tea, a guided fishing charter on Lake Peck is for you!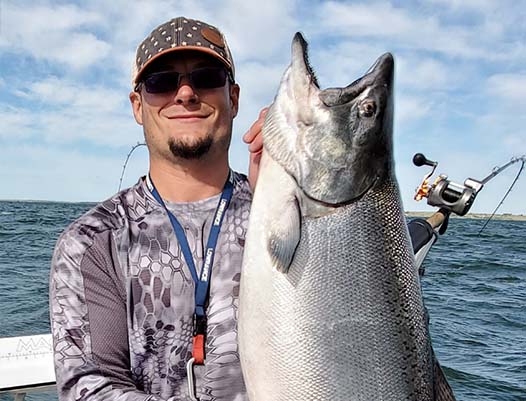 Call Joe Bouroncle for pricing:
(619) 997-1612
So as we all know as fisherman the moon an weather can change everything overnight. I have fished for years I have seen every condition known to man kind an honestly with the conditions ahead of us yesterday I was ready to throw in the towel. Even knowing captain Pete for years I thought even if we found fish getting them to bite was going to be an up hill battle at best. But my good friend an guide was not going to let us give up that easy he hunted an searched an left no stone unturned an he found the fish an before I knew it my young wife was hooked up on her first big whitefish an while she was reeling in boom I hooked up on another. Unbelievable this man is a true testament of a great guide an fisherman even with all my year's of fishing trophy fish I was amazed couldn't say enough about these guy's….
Now I know why they have 5star Google, when met Mike at somer boat launch and headed out for a half-day fishing trip try to catch the Mac's Fishing started out a little slow then Mike went to a secret spot and the bite was on absolutely a kick in the butt. Very nice boat from Stevens Marina, Mike our guide was fantastic real kick and a good fisherman. Would highly recommend to anybody that is in Flathead Lake area to take the time to go out and fish with Captain Mike's charter boats….