Captain Mike's Fleet for Flathead Lake Fishing Charters
Whether you and your group will be fishing Western Montana's Flathead Lake or taking a scenic boat tour to Horse Island – his fleet and captains are equipped to ensure a safe, comfortable and memorable experience!
From Captain Mike's "Osprey" to Captain Kirk's 16′ drift boat, we've got you covered for every fishing & touring occasion!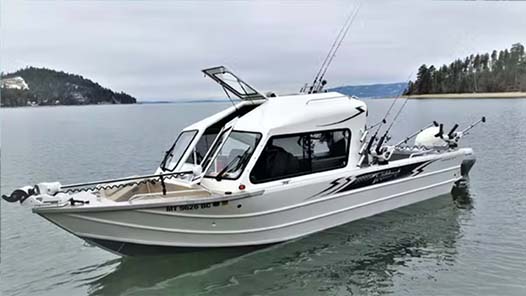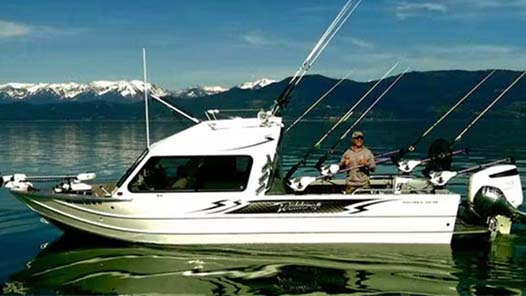 The "Osprey" is a 24′ 2018 Weldcraft Maverick actually measures 28 feet. She floats a 300 horsepower Suzuki outboard that'll reliably whisk your group to the fish. The Captain has personally outfitted his boat with many of the latest higher end pieces of fishing equipment, starting at the bow.
There is a 36 volt 72 inch shaft self deploying Minnkota Riptide Ulterra to lock you over the fish when the technique for getting the fish requires vertical jigging. A 15hp Honda high thrust "kicker" motor outfitted with the latest Garmin autopilot system having a wireless digital remote with throttle control as well as control from the fishfinder display, will accurately keep speed and direction while trolling. A Garmin Panoptix LiveSight mounted to a custom panning system for seeing fish in 360 degrees on live sonar! Two Cisco Fishing Systems electric planer board reels, and 4 Cannon TS 10 Digi-Troll downriggers. Two Lowrance HDS Carbon fish finder units on board loaded with the latest Navionics maps. They accurately mark the fish with high resolution side and down imaging with Fish Reveal software and Chirp Sonar. Lowrance Halo 20+ Radar. The HDS 12, and HDS 9 Carbons, bluetooth capable Lowrance Sonic Hub2 Sound system, the Lowrance Link 8 VHF marine radio, and all the engine information coming from the Suzuki are all networked.
The captains and co-captains chairs are fully adjustable and shock absorbed. The two 4 foot bench seats give plenty of comfortable seating for everyone else. A clean vessel that keeps your group warm, dry, comfortable and at ease when enjoying a fishing excursion on beautiful Flathead lake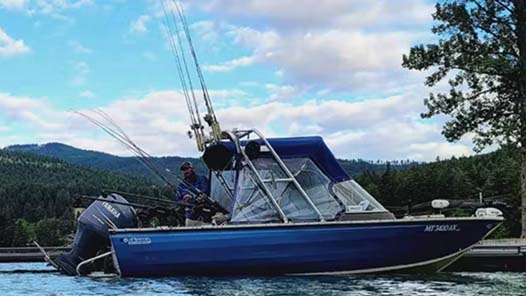 Captain Kirk's "Piscator"
Captain Kirk's 20′ Crestline. Completely customized vessel truly fishes bigger than she looks with 4 electric down riggers remote steering, planer board reels for a wide lure spread, on board fillet station, and plenty of Lowrance technology to get on fish and lots of them.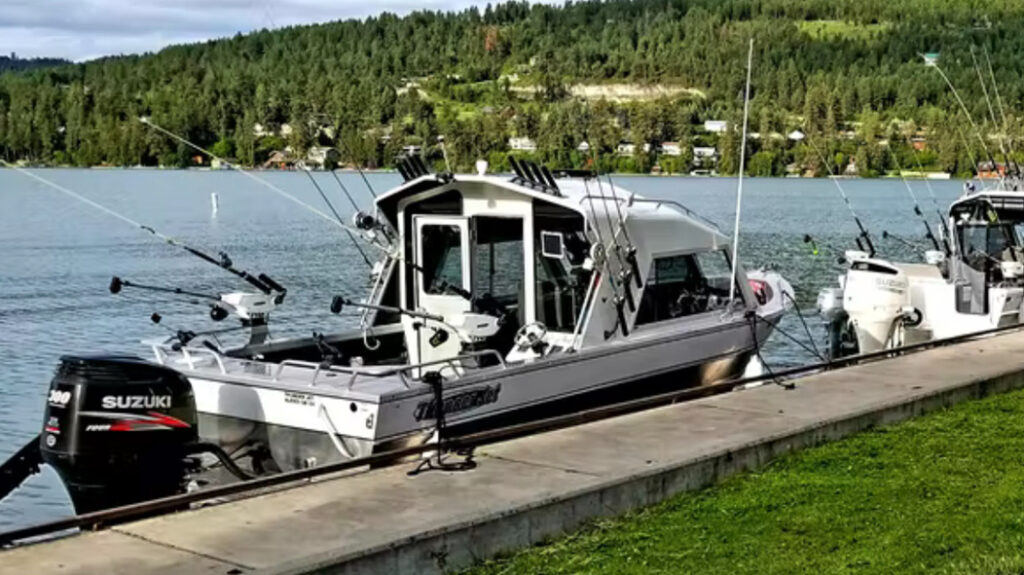 Captain Joe's "Size Matters"
Capt. Joe's boat is outfitted with… Lowrance HDS-9 Gen 3 Sonar/Chartplotter, two Cannon Digi-troll Tournament Series Downriggers, Cisco Fishing Systems Planer-board system, four 8'6″ Tournament Innerflow trolling rods, four 8'6″ Okuma SST rods, two 8'6″ Fenwick Eagle rods, four 8'6″ Temple Fork Outfitter Rods,  two Shimano Tekota 501 trolling reels, two Daiwa Lexa 300 reels, 5 Okuma Coldwater Low Profile 354 reels, four Okuma Magda Pro 400 series reels and 1 Cabela's depthmaster300 reel, 10hp Suzuki kicker with Lowrance Autopilot, all USCG safety equipment and medical kits, Alaskan Bulkhead and a cozy heater. Perfect for a group of friends or a family.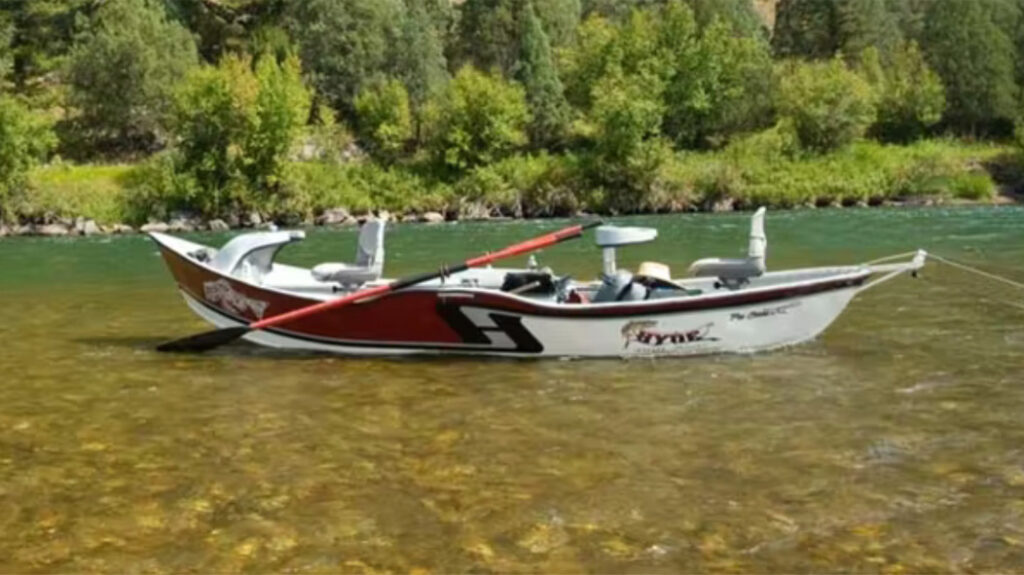 Captain Kirk's Drift Boat
16′ Hyde pro xl series  drift boat … Easy to get in and out of … Super stable for all ages… All you have to worry about is getting the fish in the net.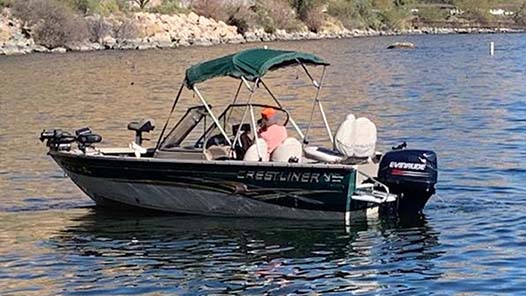 Our love of fishing has been a part of our lives from childhood to the present day.  Fishing is a great way to spend time together.
Originally from Calgary, Alberta, Canada, we moved to Montana in 2010.  We just love the variety of fishing experiences that are available here.
You need the right knowledge and the right equipment to have the best experience available.
Hope to see you aboard!
Daryl and Connie Frank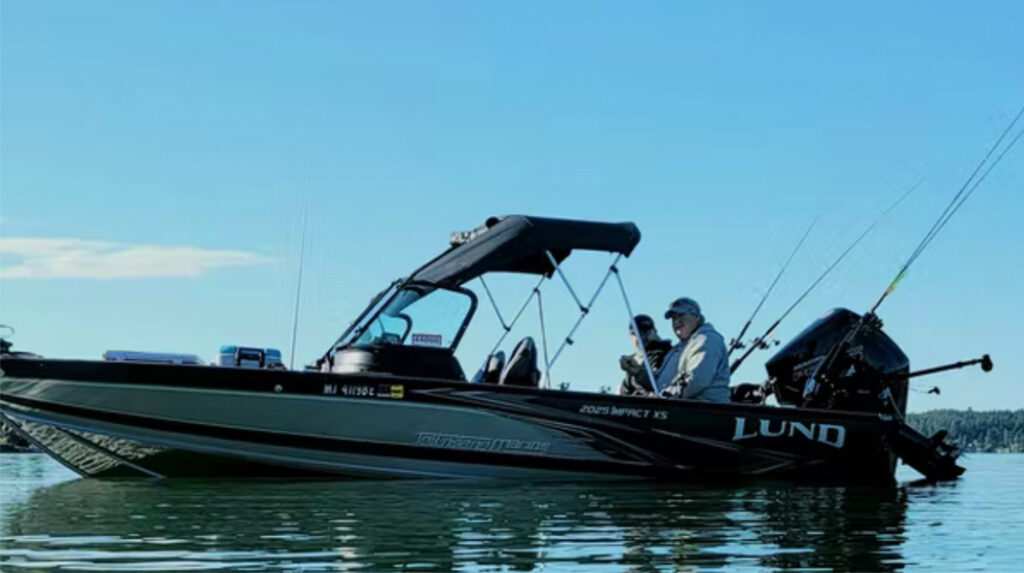 Capacity: 3 for Flathead Lake fishing 4 for Wild Horse Island tours
2021 Lund Impact  XS
length 20'2″
2 Cannon Downriggers
2 Hummingbird Helix 9″ fish finders one on bow and one at console
1 Lowrance Elite 9 console
1 36 volt Tarova on bow for sterling & anchoring
Mercury 200 HP PRO XS main
Mercury Pro Kicker 15 Hp
4 air ride seats 1 captain and 3 passenger air-ride along with 2 jump seats.