Flathead Lake Fishing Charters
Half Day Charter (5 Hours) – $450
Includes one person, additional guests are $25.00 each. 6th person is an additional $50.00 (maximum capacity varies for each boat)
Full Day Charter (9 Hours) – $1000
Includes one person, additional guests are $25.00 each. 6th person is an additional $50.00 (maximum capacity varies for each boat)
Give your family a day of memories they'll keep for a lifetime! A day spent fishing on Montana's Flathead Lake includes spectacular scenery, laughter and action-packed fishing with your group.
Flathead Lake is the largest natural, freshwater lake west of the Mississippi. The Lake is primarily fed by the Flathead and Swan Rivers and the water quality is among the best you'll find anywhere. Flathead Lake is over 27 miles long and 15 miles at its widest point, covering 191 square miles.
There are over 25 species of fish found in the Flathead River and Lake ecosystem giving your opportunities to catch a number of different fish including our main targets – Lake Trout and Lake Whitefish.
We depart at the Somers Boat Ramp
Great Northern Historical Trail
Somers, MT 59932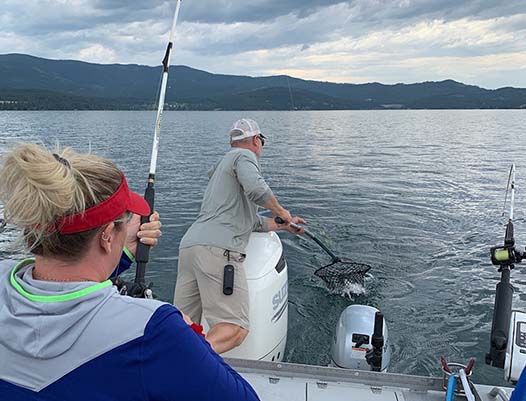 Check Availability & Book Now!
Unbelievable experience!! My son will forever treasure learning how to reel in big lake trout with the help of Joe Sangimino and his wife!! They are both expert fisherman/woman with great persistence and patient that made the experience worthwhile and so much fun!! Forever grateful and will definitely plan a trip back!!…
So as we all know as fisherman the moon an weather can change everything overnight. I have fished for years I have seen every condition known to man kind an honestly with the conditions ahead of us yesterday I was ready to throw in the towel. Even knowing captain Pete for years I thought even if we found fish getting them to bite was going to be an up hill battle at best. But my good friend an guide was not going to let us give up that easy he hunted an searched an left no stone unturned an he found the fish an before I knew it my young wife was hooked up on her first big whitefish an while she was reeling in boom I hooked up on another. Unbelievable this man is a true testament of a great guide an fisherman even with all my year's of fishing trophy fish I was amazed couldn't say enough about these guy's….