Flathead Lake Fishing Charters
Half Day Charter (5 Hours) – $450
Includes one person, additional guests are $25.00 each (maximum capacity varies for each boat)
Full Day Charter (9 Hours) – $1000
Includes one person, additional guests are $25.00 each (maximum capacity varies for each boat)
Give your family a day of memories they'll keep for a lifetime! A day spent fishing on Montana's Flathead Lake includes spectacular scenery, laughter and action-packed fishing with your group.
Flathead Lake is the largest natural, freshwater lake west of the Mississippi. The Lake is primarily fed by the Flathead and Swan Rivers and the water quality is among the best you'll find anywhere. Flathead Lake is over 27 miles long and 15 miles at its widest point, covering 191 square miles.
There are over 25 species of fish found in the Flathead River and Lake ecosystem giving your opportunities to catch a number of different fish including are main targets – Lake Trout and Lake Whitefish.
We depart at the Somers Boat Ramp
Great Northern Historical Trail
Somers, MT 59932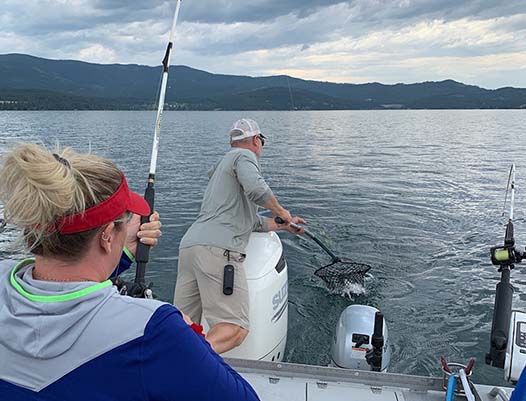 Check Availability & Book Now!
We went on a half day charter with Captain Mike on Flathead lake and had an absolute blast. Captain Mike was a great guide, helped us understand the strategy that goes into fishing, and every person in our party caught at least 1 fish (we caught over 10 total). It was hands down the best guided fishing trip I've been on and hope to be back soon….
Great time out on Mike's boat. Super friendly, incredibly knowledgeable, and the hardest working outfitter and guide you'll find for some fishing on Flathead lake. Filleted the fish on the boat and did all the heavy lifting while we were fishing too. Highly recommend. Can't wait to visit the area again and go back out on the lake with Mike and his crew….