Half Day Charter (5 Hours) – $400
Includes one person, additional guests are $25.00 each (maximum capacity varies for each boat)
Come aboard for a great adventure! This trip is designed solely to introduce our young anglers to the wonderful sport of fishing!
We'll take your group or family on a memorable Flatehead Lake fishing trip specifically tailored to getting your youngsters involved in fishing and having fun in the outdoors.
We're firm believers in introducing kids to fishing at a young age (typically 6-11 years old) and providing a safe, fun and positive experience for them. Our professional guides love sharing the sport of fishing with children and novice anglers and are both patient and experienced!
What to Expect
Kids will learn hands-on-techniques from our expert anglers
Receive instructions on how to fish using light tackle.
We'll release our catch after the kids have a chance to identify the species, touch them, take photos
We'll work to keep it active – We will do our very best to keep everybody to catch lots of fish!
Targeted species: Perch, Crappie, juvenile Lake Trout, Smallmouth bass, Peamouth, juvenile Whitefish and Northern pikeminnows.
This trip is solely designed for beginner anglers with little to no fishing experience.

*Children must be accompanied by a parent or legal guardian.
We depart at the Somers Boat Ramp
Great Northern Historical Trail
Somers, MT 59932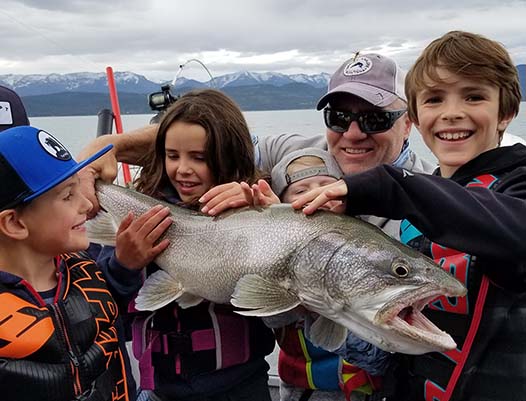 Check Availability & Book Now!
It was a tough day of fishing, fish were hard to come by; for other boats that is. Joe Sangimino managed to get us in to 9 fish and 8 of them made it to the boat. I think we were one of the only boats catching fish. I appreciated the effort he put forth and the willingness to answer all my questions. I'd highly recommend this service whether you're new to fishing or looking to learn a new fishery….
Our fishing charter with guide Dillon Tiffany was absolutely awesome! We had a lot of laughs, and he definitely put us into the fish! Super knowledgeable about the lake, the area, different fishing techniques, and the different species of fish and wildlife. He delivered all of this information with humor and a contagious excitement for the sport of fishing and all that this beautiful area of Montana has to offer. I can't say enough. Thank you for helping to make this trip one of the best ever!…