Half Day Charter (5 Hours) – $400
Includes three persons, additional guests are $25.00 each (maximum capacity varies for each boat)
Come aboard for a great adventure! This trip is designed solely to introduce our young anglers to the wonderful sport of fishing!
We'll take your group or family on a memorable Flatehead Lake fishing trip specifically tailored to getting your youngsters involved in fishing and having fun in the outdoors.
We're firm believers in introducing kids to fishing at a young age (typically 6-11 years old) and providing a safe, fun and positive experience for them. Our professional guides love sharing the sport of fishing with children and novice anglers and are both patient and experienced!
What to Expect
Kids will learn hands-on-techniques from our expert anglers
Receive instructions on how to fish using light tackle.
We'll release our catch after the kids have a chance to identify the species, touch them, take photos
We'll work to keep it active – We will do our very best to keep everybody to catch lots of fish!

*Children must be accompanied by a parent or legal guardian
We depart at the Somers Boat Ramp
Great Northern Historical Trail
Somers, MT 59932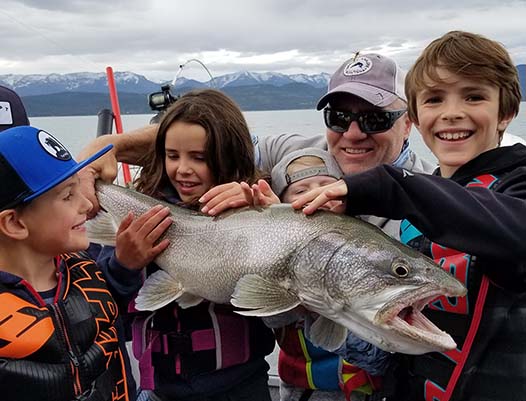 Check Availability & Book Now!
Kirk was our guide for our Fly Fishing excursion and our Flathead Lake fishing and he was super. I highly recommend this group to anyone wanting to have fun, catch a lot of fish and have well knowledgeable person as your captain. Very professional and will show you a great time. Well worth every penny….
Found them on Google, booked a trip and caught at least 25 Lakers in a 5 hr trip. Our captain was mike he had us on them from the start and was a great person to boot. I believe I may have made a life long friend. Thanks for a great trip….