Half Day Charter (5 Hours) – $400
Includes one person, additional guests are $25.00 each (maximum capacity varies for each boat)
Come aboard for a great adventure! This trip is designed solely to introduce our young anglers to the wonderful sport of fishing!
We'll take your group or family on a memorable Flatehead Lake fishing trip specifically tailored to getting your youngsters involved in fishing and having fun in the outdoors.
We're firm believers in introducing kids to fishing at a young age (typically 6-11 years old) and providing a safe, fun and positive experience for them. Our professional guides love sharing the sport of fishing with children and novice anglers and are both patient and experienced!
What to Expect
Kids will learn hands-on-techniques from our expert anglers
Receive instructions on how to fish using light tackle.
We'll release our catch after the kids have a chance to identify the species, touch them, take photos
We'll work to keep it active – We will do our very best to keep everybody to catch lots of fish!

*Children must be accompanied by a parent or legal guardian
We depart at the Somers Boat Ramp
Great Northern Historical Trail
Somers, MT 59932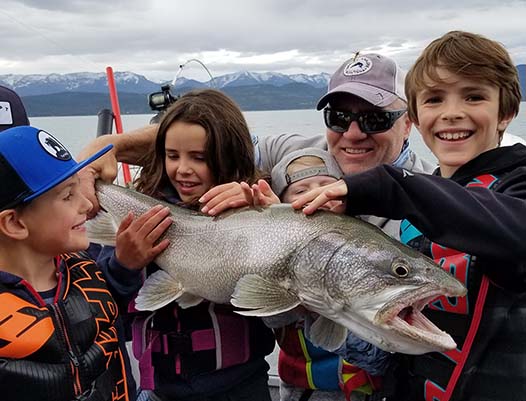 Check Availability & Book Now!
This experience was 5 stars from stem to stern. My initial convo with the office manager, Rebecca, was responsive, professional and so helpful. Captain Glenn's luxury fishing pontoon was immaculate, well stocked and had high tech fishing equipment. Captain Glenn was the icing on the already perfect cake – extremely knowledgeable, friendly and so very helpful to newbie fishers. This was an amazing day that created memories that will bring a smile to my face even when I'm an old woman….
So as we all know as fisherman the moon an weather can change everything overnight. I have fished for years I have seen every condition known to man kind an honestly with the conditions ahead of us yesterday I was ready to throw in the towel. Even knowing captain Pete for years I thought even if we found fish getting them to bite was going to be an up hill battle at best. But my good friend an guide was not going to let us give up that easy he hunted an searched an left no stone unturned an he found the fish an before I knew it my young wife was hooked up on her first big whitefish an while she was reeling in boom I hooked up on another. Unbelievable this man is a true testament of a great guide an fisherman even with all my year's of fishing trophy fish I was amazed couldn't say enough about these guy's….