Meet Our Flathead Lake Charter Captains and Guides
Flathead Fish Finders has been introducing families and fishing enthusiasts to the thrill of fishing Flathead Lake and other bodies of water in Northwest Montana for many years. Let us introduce you to our outstanding captains and guides!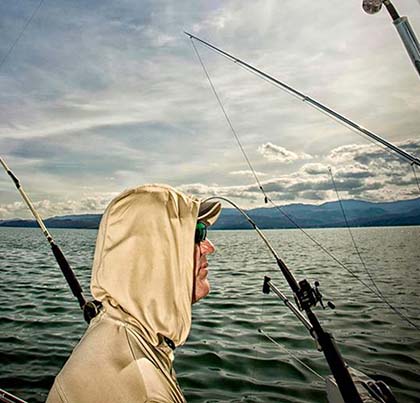 Captain Mike Jousma started his guide business with one boat and a desire to show clients how to have the most fun possible catching fish on the beautiful lakes in northwest Montana. Over time, Mike's fleet of boats grew as he hired some of the best and most experienced fishing captains in the lower forty-eight.
Captain Mike is a highly skilled fishing guide (Outfitter License #26230) with a 26' 2018 Weldcraft Maverick fishing boat – equipped with all the goodies.
One of the best things Captain Mike has announced is the ability to offer charters on other local lakes – in addition to Flathead Lake and Lake Koocanusa. This opens up opportunities to catch additional species and see lakes and Montana scenery that few people ever get a chance to experience!
Capt. Joe has been fishing since he could walk and being raised in the South, he spent a lot of time chasing bass, catfish and trout.
After 10.5 years of serving as a submariner in the US Navy, Capt. Joe moved to Montana. For the last 7.5 years he has been honing his skills in Montana and Idaho targeting Rainbows, Bulls big Lake Trout and King Salmon.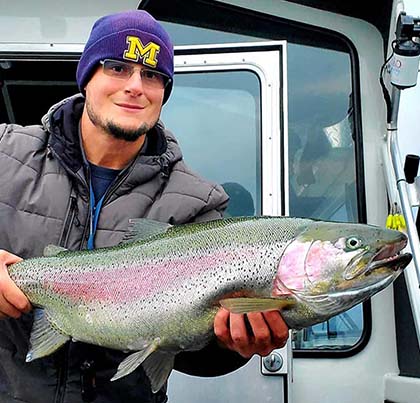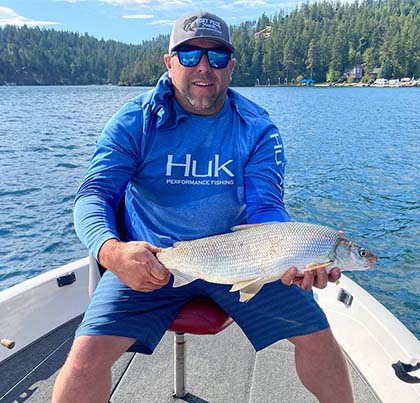 Capt. Jeff was born and raised fishing in the Flathead Valley.
Through the years he has had multiple 1st place finishes, 7 top 5 finishes and multiple top 10 placings including a 1st place 2018 adult/child angler of the year for the Montana walleye tournament series.
He is a multi-species captain who can put fish, laughs and memories all in the boat. Jeff can get you on a variety of species on different bodies of water around the Flathead valley area.
When he is not on the water, he spends his days in the outdoors and is full of entertainment. Book today and let Jeff help you with the trip of a life time.
Captain Daryl & Connie Frank
Connie an Daryl Frank's love of fishing has been a part of their lives from childhood to the present day. Fishing is a great way to spend time together.
Originally from Calgary, Alberta, Canada, they moved to Montana in 2010. They just love the variety of fishing experiences that are available here.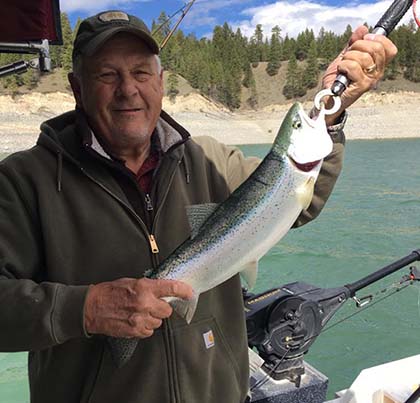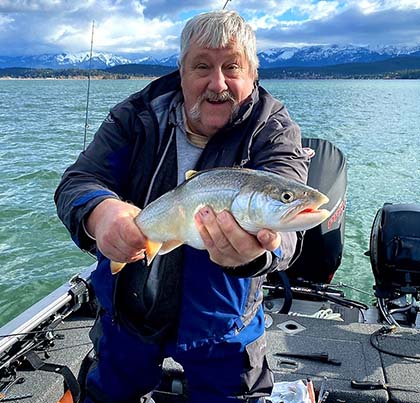 Captain Pete has lived in the Flathead Valley almost his whole life. He started fishing as a kid on Church Slough and spent 7 1/2 yrs. in the US Navy as a boiler operator. He has been fishing for 45 years and it is his passion.
Capt. Pete owns and operates Pete's Tackle Shop; a small tackle manufacturing company, where he makes custom hand-made tackle and fishing gear for local species. Pete sells his tackle at https://www.petestackleshop.com/ and locally  at Snappys Sports Senter in Kalispell. He is known for his Whitefish Slayers and Chancy's Crappie Candy.
Pete is currently the state record holder for the pumpkinseed sunfish.  https://www.fieldandstream.com/fishing/montana-angler-catches-record-sunfish/
Pete got into guiding to share what God has blessed him with, and to bless others by making memories.
One of Dylan's first memories is sitting on a dock catching Bluegill with his mother. Ever since that day fishing has been an obsession.
In grade school Dylan was asked what do you want to be when you grow up? "I want to be a professional fisherman", he would say.
Now a tad older, that same enthusiasm for fishing lives inside of him and his goal every fishing trip is – to make it as memorable as possible!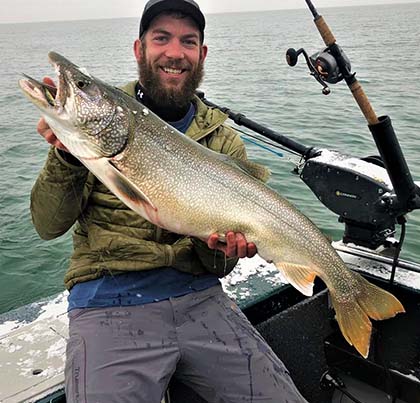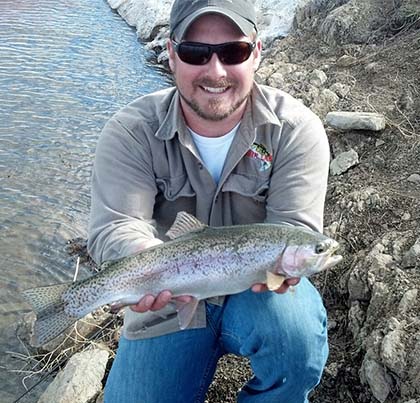 Captain Kirk is a true local being born and raised right here in the Flathead Valley and has been fishing these waters since he could hold a rod.
Captain Kirk can't wait to show you what the area has to offer between good fishing, beautiful scenery and a lot of laughs… Memories you will hopefully carry with you forever!